Flowsell® has storage systems and unique modular products that can be customised for hospitals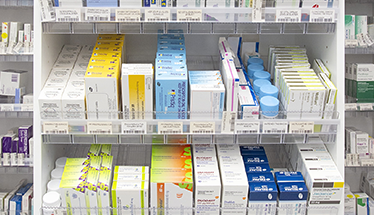 For pharmacies Flowsell® has developed innovative systems and products for dispensaries and front of shop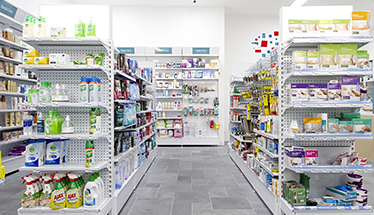 At Flowsell® we do not "believe that one size fits all". We have bespoke systems that can be customised to store and merchandise retail products.
Exceptional storage Solutions To
Affordable Storage Systems and Shelving Units in Australia
Do you need a proper healthcare storage system for your hospital or pharmacy? A proper shelving storage unit not only fits and displays items but also keeps them organized in a way that makes it easy for anyone to get items without having to rearrange them every time.
Who Are We?
Flowsell is a reputable Australian company that focuses on supplying storage and gravity feed shelving solutions for hospitals, clinics, pharmacies, veterinary clinics, and other retail areas such as supermarkets and convenience stores.
Flowsell started as a simple business supplying affordable shelving to display gravity feed spice jars in Australia supermarkets. At that time, the type of spice jars that existed had wire racks to separate them, which did not supply proper gravity feeding. To solve this problem, we came up with a plastic divider with an upright web and two side webs to allow rows of gravity feeding.
Read More

What Products Do We Sell?

At Flowsell, we supply high-quality and efficient healthcare storage systems and affordable shelving to hospitals. The units come in different designs and sizes that you can pick from for the most optimized storage and organization. Two of our products are the Slipshelf and Pullout Trayshelf that we install on wall stripping that you can position over benches. The SlipShelf and PullOut TrayShelf can also be fitted to wall units or gondolas. These can be single-sided wall units or two-sided gondolas.

The PullOut SlipShelf helps reduce infection control through the perforation of the tray and the pull-out shelf supports stock rotation and gravity feeding so you can easily access and organize medications in hospitals and pharmacies. We also have lockable medication cupboards with metal cupboard fittings and pullout shelves that you can easily stocked when you open the cupboard doors.

If you want to store a lot of medication but have limited space for huge healthcare storage systems, you can get our drawer tower, which is a tall and narrow shelving storage unit consisting of many shelves stacked vertically. You can place this unit in a small corner, where it will hold medications without consuming much space. At the same time, the multiple shelves allow you to organize the medication for easy and fast retrieval.

If you own a retail store, we have also got you covered with affordable shelving solutions for your space. We have several options to choose from, from cantilever shelving to wire racks to cool room racks. You can use the cantilever shelving to display your products in an organized manner in supermarkets and large walk-in stores. We have racks for your cool rooms, which we make using special materials for durability. We also supply milk trolleys that have low-friction dividers to easily organize your milk bottles with minimal effort.

Why Choose Us?

At Flowsell, we supply ultramodern healthcare storage systems and shelving storage units that will make your work easier and your space more organized. We guarantee to do all your projects efficiently and on time. While we offer high-quality items, we make them more affordable so that everyone can access them. We also strive to come up with innovative product solutions to make the lives of our clients easier.

Contact us today, and our team will get back to you to supply the perfect shelving storage unit for your business.
Serving Australians since 1979
We guide you through the process
Flowsell® Shelving Systems are so flexible that they can be used on free standing gondolas, walls, drawers and even in cabinet shells to store medications. No other company offers systems that are so versatile. If you prefer to separate fast and slow movers we have a solution for you.
Our systems are engineered to efficiently store, display and dispense products and have been especially designed for easy handling, improved workflow and hygiene control.
We begin by talking with you about your vision for your business, whether you order a single rack or a full fit-out.
With a clear understanding of your requirement, we promptly provide quotes with affordable prices to match your business budget.
Only experienced operators are employed to install your project.
We give you a modern and efficient designed layout for your work space to meet your business and customer needs.
Flowsell® co-ordinate the planning process to ensure the smooth and timely installation of the project.
We follow-up to ensure satisfaction with the service and products.
So pleased with the new Flowsell dispensary. I would not have made it through the pandemic without It
So much faster now to prepare scripts. I wish I had more room in the dispensary to add more Rear Load cabinets
Thanks for the new shelving, it looks amazing and the feedback from everyone has been great!
Get In Touch
If you're interested in talking to us about a potential project, please reach out below. We aim to respond within one business day.
How does Flowsell® provide quotes?
We would be pleased to provide quotes with no obligation and no sales pressure.
What are the terms of payment?
An upfront payment by electronic funds transfer or credit card for all first-time customers, thereafter net 30 day payment for all subsequent orders
Can Flowsell® organise delivery?
We can provide freight to all states in Australia if required.
Is installation included?
We can provide installation if required. We have a nationwide team of experienced installers.
What warranty terms and conditions does Flowsell® offer?
We provide a 5-year warranty on the metal components based on defects arising out of the manufacturing process.
How can I be assured of the quality of the products?
We have achieved certification to an ISO integrated management system. Find out more on our ISO information page.